Use Canadian Data Services To Stay In Touch With Your Contacts
Speed-to-market and information accuracy are critical to your marketing campaign's success. The UpdateYourList.com DIY Portal allows you to instantly clean and validate the mailing addresses for your Canadian customer and prospect files in real-time to get the most out of your contact records. Canada NCOA data is also avaiable to process your file and receive change of address information for your customer and prospect records who have moved.
Benefits of Canadian Address Standardization &amp Canadian NCOA
Save time & money with validated addresses for your mailing campaigns

Ensure your customer list is accurate and up-to-date

Receive change of address information before you mail your customers who have moved

Cut down on the number of undeliverable and returned marketing pieces

Increase customers' lifetime value and gain better business intelligence
Features of Canadian NCOA &amp Canadian SERP
Over 11 million move records

72 Months (or 6 years) of move data

Database update schedule: Monthly

Real-time turnaround
Processing Options For Canadian Address Standardization &amp Canadian NCOA
Self Service Do-It-Yourself Portal 24/7 Checkout: Yes

File Transfer Protocol (FTP) Automation: Yes

Developer API: No

Submit File To Your Account Rep For Processing: Yes

Minimum Record Count: No Minimum
Canadian SERP &amp Canadian NCOA Pricing
SERP: $1.50 for every 1,000 records ($0.0015 per record)

NCOA: $2.90 for every 1,000 records ($0.0029 per record)
How Canadian Data Services Work In Our DIY Portal
Create and activate your free DIY Portal account

If processing NCOA register with Canada Post to receive a User ID and provide us with your ID

Upload the (.xls .xlsx .csv .txt .dbf .mdb .accdb) file you want to process to our secure processing servers

Select the Canadian Address Standardization (SERP) or Canadian National Change Of Address (NCOA Canada) service

Submit your order to receive real-time results (same day turn-around)
DIY Portal Canadian NCOA &amp Canadian SERP Sample Reports
Output File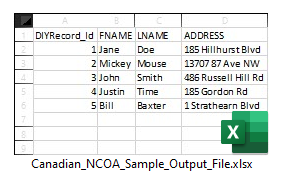 Canadian Data Services Frequently Asked Questions
What is Canadian NCOA processing?
The DIY Portal helps identify movers in your customer databases or mailing lists, using a combination of names and addresses. To identify a match, the portal must recognize your customer's first and last name against the NCOA database's first and last name and old address on file. The output file will then contain the new address for your customer.
How much does it cost to process Canadian data services for my file?
For SERP address standardization the price is $1.50 for every thousand records, or $0.0015 per record submitted.
For NCOA the price is $2.90 for every thousand records, or $0.0029 per record submitted.
Please create a free account to log into the DIY Portal and view the complete pricing list for Canadian data services.
How often is the Candian dataset updated?
The database used for Canadian SERP and Canadian NCOA is updated on a monthly basis.
How can I use the Canadian NCOA results to cleanse my data?
If you are preparing a mailing and do not have an existing business relationship with a customer you can update your mailing list with the new address information. You cannot keep the mover data on file and must re-process your mailing list against NCOA mover data services for any subsequent mailing.
If you have an existing relationship with a customer you can update your customer records with the new address information. When a new address is provided, terms of use also allow you to contact the customer to confirm the new address information.
How do I process my file through Canadian data services in the DIY Portal?
Performing Canadian address standardization and NCOA is as simple as uploading your customer file, mapping your name and address fields, and clicking submit. We also have some "How To" videos in the DIY Portal to show you exactly how to process a file.
What is the turn-around time for Canadian SERP &amp Canadian NCOA processing?
When opting for real-time processing, the DIY Portal can process hundreds of records per minute, and files are returned within hours.
How many years of history can a Canadian move be traced back to?
The Canadian NCOA mover database contains over 11 million mover records with 6 years of history.
This Canadian Data Services landing page content was last updated on: 5/22/2020