Connect With Your Customers Using Reverse Email Append Services
Speed-to-market and information accuracy are critical to your email marketing campaign's success. The UpdateYourList.com DIY Portal allows you to instantly append name, address, and telephone number information to the email addresses in your customer and prospect files in real-time to get the most out of your contact records. The email append process utilizes one of the largest repositories of email address with input records at over 2 billion. Proprietary 7-step validation process identifies addresses known to be associated with spam traps, invalid emails and domains, role accounts, complainers, known hard-bounces, and more.
Benefits of Reverse Email Append
Save time & money with validated email address contact information

Ensure your customer list is accurate and up-to-date

Improve multi-channel campaign success by reaching more customers and prospects

Populate missing email address contact information

Reduce the number of undeliverable emails

Personalize marketing emails

Maintain high sending reputation
Features of Reverse Email Append
198 Million unique email addresses populated with contact name and address data

Database update schedule: Weekly

Date stamp and IP addresses available on most records

Proprietary confidence codes resulting in more valid matches

Real-time turnaround

Multiple suppression options (over 300 million records) to exclude invalid email addresses
Processing Options For Reverse Email Append
Self Service Do-It-Yourself Portal 24/7 Checkout: Yes

File Transfer Protocol (FTP) Automation: Yes

Developer API: Yes

Submit File To Your Account Rep For Processing: Yes

Minimum Record Count: No Minimum
Reverse Email Append Services Cost & Pricing
Append Name & Address : $0.08 per email address

Append Phone Number (Optional): $0.08 per phone number

Append IP Address (Optional): $0.02 per match

Append Date Stamp (Optional): $0.02 per match

Append Connection IP Address (Optional): $0.02 per match

Append Connection Type (Optional): $0.02 per match

Append Domain (Optional): $0.02 per match

Append Parsed Name &amp Address Elements (Optional): FREE
How Reverse Email Appending Works In Our DIY Portal
Create and activate your free DIY Portal account

Upload the (.xls .xlsx .csv .txt .dbf .mdb .accdb) file you want to process to our secure processing servers

Select your Reverse Email Append processing services

Submit your order to receive real-time results (same day turn-around)
DIY Portal Reverse Email Data Appending Sample Reports
Output File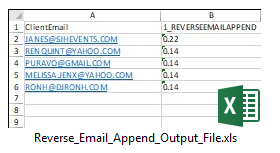 Reverse Email Appending Services Frequently Asked Questions
What is the turn-around time for reverse email append processing?
When opting for real-time processing, the DIY Portal can process hundreds of records per minute, and files are returned within hours.
How often is the reverse email append database updated?
The database used for reverse email appending is updated weekly.
What are the required input fields necessary to submit a file for reverse email append processing?
The only required field for the reverse email append service is email address.
What is the source of your reverse email append data?
We have over 198 million marketable email records, and a bounce/suppression file of over 300 million records, that are multi-sourced from over 2 billion input records in total.
How much does it cost to process a file through reverse email append?
We only charge for names and addresses appended to your file, which is currently $0.08 per record. Please create a free account to log into the DIY Portal and view the complete pricing list for reverse email append services.
How do I process my file through reverse email append in the DIY Portal?
Performing reverse email append is as simple as uploading your customer file, mapping your email address field, and clicking submit. We also have some "How To" videos in the DIY Portal to show you exactly how to process a file.
Can you reverse append phone numbers to the email addresses?
Yes, we can also try to find and append a phone number for your email addresses.
The cost to append a phone number is $0.08 per phone number, and you are only charged if a phone can be appended.
This Reverse Email Append landing page content was last updated on: 8/12/2018